Cold Weather
As weather conditions vary from region to region Woodcock ringers are asked to use their judgement about their own area and whether or not to continue catching woodcock. Please stop ringing if birds that you are catching weak or under weight birds. All ringers will have received an email from the BTO ringing department outlining the code regarding cold weather, should freezing conditions continue for a further week we will be nearing a statutory ban. Please take note of any communications from the ringing department who will advise all ringers on the latest situation. If you have ringed woodcock during the recent period of cold weather please ensure that you send your data to Jacquie Clark in the ringing department. Please supply details of: average weights, sample size, and the period over which your data was taken. If you have data from the corresponding period last year please also send monthly averages, and sample size.
So far in January I have ringed 9 birds; the average weight for these was 335gms. This suggests that Woodcock are managing to feed and hold their weight well. There have been numerous accounts of Woodcock seen feeding in the daytime and it is likely that many birds are, so far finding unfrozen areas in woodland where they can feed. All of the 14 Woodcock I saw on the night of Jan 4th were tight under hedges, in my experience Woodcock normally avoid these areas, possibly because they present a higher risk of predation, but in cold conditions hedges provide a slightly warmer place to stay the night. Interestingly all the birds I saw were facing into the hedge regardless of wind direction.
Our total of woodcock ringed this winter currently stands at 346.
There have been reports of a number of foreign ringed birds being shot in the UK this season. A Swedish ringed bird shot in Perthshire , Dutch ringed bird shot in Cardiganshire, and a French ringed bird shot in Hampshire.
On my local ringing site I re-trapped woodcock EW94129 on Jan 3rd for a second time on the same field it was ringed on in 2008, and re-trapped for the first time on Jan 19th 2009, can't say it seemed as pleased as I was to see it again!
This image taken by the NASA Terra satellite on 7 January 2010 shows the extent of the snow cover across the UK. Spot the green - Ireland! Maybe this is where all our woodcock will be heading.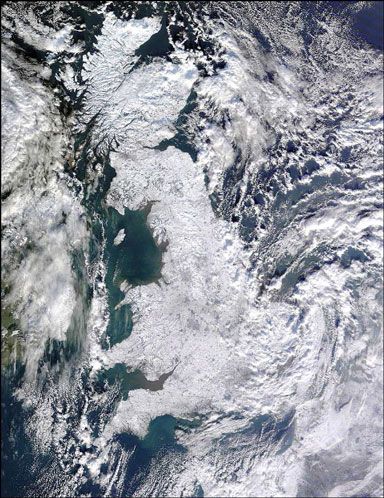 Stay warm!
07-Jan-2010