The Woodcock Network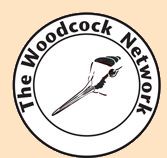 Patron ~ The Duke of Northumberland, DL, MRICS
Scientific Advisor ~ Dr Andrew Hoodless, Game & Wildlife Conservation Trust
Veterinary Advisor ~ John Chitty, BVetMed, CertZooMed, CBiol, MIBiol, MRCVS
Veterinary Advisor ~ Chris Davis, BVM&S, MRCVS
Director ~ Owen Williams
Links and Useful Contacts
Here are links to our partner and supporting organisations and to useful equipment suppliers.
An independent, scientific research trust, investigating the populations, movements and ecology of wild birds in the British Isles. Their speciality is the design and implementation of volunteer wild bird surveys. Bird Ringing in Britain and Ireland is organised and co-ordinated by the BTO, by overseeing standards, issuing licenses for ringing on behalf of the government agencies, maintaining records of bird ringed and processing reports of ringed birds.

The leading UK charity conducting scientific research and developing game and wildlife management techniques. They provide training and advice to farmers, gamekeepers and land managers on how best to improve the biodiversity of the countryside.

Manufacturers and suppliers of high-powered rechargeable torches.
All content and images © 2009-2015 Owen Williams and The Woodcock Network Ltd - charitable registered company No. 7289034